NeuroAnatomical Location of Depression Symptoms
NeuroAnatomical Location of Depression Symptoms
Amygdala and Prefrontal cortex: Guilt, Suicidality and Worthlessness.

Nucleus accumben

s: Pleasure, Interest, and Energy.
Hypothalamus: Sleep and Appetite.
Functional imaging studies associate depression with opposite patterns of activity in these areas: Hypoactivity in dlPFC (dorsolateral Prefrontal Cortex) but hyperactivity in vmPFC (ventromedialPrefrontal Cortex).
dlPFC lesions exacerbate depressive symptoms whereas vmPFC lesions diminish depressive symptoms.
Clinical Implication in Depression Treatment: TMS mediated excitation of dlPFC but DBS mediated inhibition of vmPFC.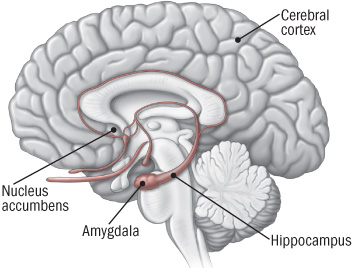 Source: Behav Brain Res. 2009 Aug 12; 201(2): 239–243.
Please do post your questions or comments below.
---
Dr. Harvinder Singh, M.D. (Admin)
---
Enroll in our online course to have access to all important clinically relevant psychiatry topics in one place.
---